3 Ways To Improve Your PowerPoint Skills
PowerPoint is one of the most common tools for presentations, and while it's a fairly intuitive program, creating engaging and informative PowerPoints can be tricky. Here are three easy tips, illustrated with GIFs from The Office!
1. One point per slide
Think of the purpose of the presentation and then create steps towards the end-goal. Attempting to have one main point per slide will not only keep you on track, but also make it easier for the audience to follow. Tons of points to make, or a lot of slides? Create dividing slides to separate topics within the same PowerPoint.
2. Utilize animations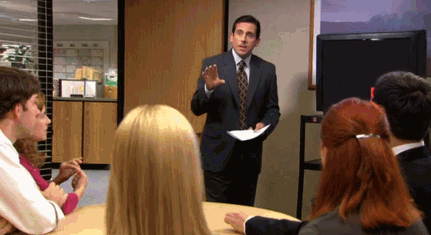 PowerPoint has a host of built-in animations available that have the potential to make slides look better. However, using too many animations, or not using them in a meaningful manner, can distract the audience.
3. Keep it simple
By only having key words and phrases on the slide, the audience will be listening to what you're saying rather than trying to read everything off of the slide. Instead, you can use the notes section on the bottom to remind yourself what to say in more detail than is shown on the slide. Rather than reading directly off a slide, speaking naturally and including your own flair and knowledge will have your audience focusing on you and not deciphering every word or graphic on each slide.
Looking to take your PowerPoint presentations to the next level? Our team of designers at Artitudes has decades of experience with PowerPoint. Contact us via our Contact page or shoot us an email at info@artitudesdesign.com for assistance on your upcoming presentations!
GIF Sources: http://giphy.com/gifs/office-gif-us-powerpoint-gifs-94iS62lx8CRQA, http://gifrific.com/dvd-cube-hits-corner-of-tv-the-office/, http://33.media.tumblr.com/tumblr_ln7va2TrXs1qawld4o1_500.gif